Jonathan has a wide and practical back ground in steam engineering, which includes major boiler work on his own engine Oliver, as well as working full time for a number of years in the workshops at Bressingham Steam Museum.
Working to current regulations (The Pressure Systems Safety Regulations 2000) Jonathan mainly covers the area from London to Lincolnshire, and from the East Coast across to the M1.  However, being near to Stanstead and |Luton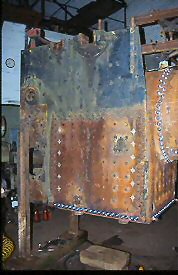 International Airports, inspection work has been undertaken with ease on the Continent and in Scotland too.
All types of pressure systems can be accommodated, including fullsized and model traction engines, railway locomotives, steam cars and marine boilers to name but a few.
For further information on any of these services contact:
Jonathan Wheeler on
07929 648369 or
enquiries@wheeler-steam.co.uk